PLANETii offers math teachers a simple and intuitive suite of teaching tools. It allows teachers to utilize PLANETii's growing question bank and visual aids to better achieve their teaching objectives in scarce class time.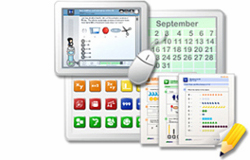 Library of Quality Math Questions

35,000 math problems covering 91 topics all aligned with NCTM standards. Downloadable study guides for 91 topics complemented by animated visual aids and descriptive solutions. All aimed to help your students build solid foundations in the five learning dimensions of math: Numbers, Measures, Shapes and Space, Date Handling and Algebra.